This Is Our Business-Slogan


Avet TRX Reels
Avet T-RX 50W $849
Avet T-RX 50 $799
Avet T-RX 80W $959 Click Here
Avet TRX 30W $750 $699
yes, there are a few 30w's left
Avet New color the Patriot Flag is available
on the TRX reels as an option.
The long awaited
Avet TRX 80W is
NOW available
, in both standard
and wide spool versions., The total drag
is around 120-130 pounds,
amazing to say the least........

The
Avet TRX 80W

page is here Click Here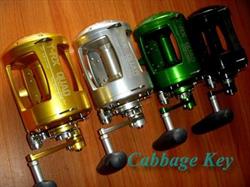 Avet TRX reels Awesome Power at your fingertips
The Undisputed heavyweight of Big Game reels, the Avet TRX 80's produce 125-130 pounds of drag at maximum, no other reel comes close. You can target the largest fish in the sea and actually winch the to the boat.


If you are seeking the strongest, baddest reel out there , the Avet TRX 80's are the ticket.


The Tuna and Swordfish anglers as well as the Shark fisherman covet these gems. Since there introduction 3 years ago, the Avet TRX reels have become the reel of choice among top anglers and Captains worldwide

A quick look at the specs on these reels will reveal they are a no-nonsense
business machine. The only other reels we know of that can pull 100+ pounds
of drag and last would be the giant Everol 14 and 18/0's.

Avet persued the design and engineering of the series to take full advantage
of the newest Spectra lines. Their thought was to design a 50 sized reel to
take full advantage of the thin, immensely strong characteristics of the
superbraids. Thus, they created the Quad T-RX series.
A relatively compact lightweight that can handle 130 to 200 lb Spectra with no problems.

Utilizing twin Titanium floating brake dics and four huge carbon fiber drag
discs, Avet has come up with a reel that overshadows all of the 130 lb class
reels on the market, yet only weighs 79 ounces in the wide version. Its
obvious a 6/0 frame size will not spool a comparable amount of mono as a
12/0 130 lbclass, therefore spectra with a mono topshot is a must for best
performance.

To absorb the intense pressures that can be exerted on the shaft, the
Avet T-RX spins on 7 ABEC 5 Rated Sealed stainless steel ball bearings,
with 2 more in the handle

Our customers that have bought the Avet Quad T-RX have given it rave
reviews on grander Marlin, bringing them to the boat with relative ease, ditto
on the Giant Bluefin Tuna.
It is also the only reel we know of that can pull a Goliath Grouper out of its lair. Of course they are protected and you cannot keep them, But the sheer experience of battling these giants is a once in a lifetime experience

The rigging we advise is 130 or higher hollow Spectra with a topshot of corresponding weight mono, say 100 to 200 yards to allow stretch while battling these behemoths. The T-Rx 50 reel will spool a total 650 yds of 130 hollow Spectra with room for a short wind on topshot a topshot.
The T-RX 50W will hold substantially more, with the typical spooling being 750/130 hollow with a wind on leader of 50-100 yds of 150 mono Total close to 800 yds. This, of course, varies with the amount and weight of the Spectra
and mono topshot combo selected.

All in all, a very tough reel that is quite capable of handling anything in the sea thats catchable. If this is the class reel you are considering, it will be worth your while to take a serious look.


Specs for the Avet TRX 50's
:

1. Two Speed Model, Gear Ratio H3.2:1, L1.3:1
2. Preset Lever Drag control system.
3. 100+ lb Drag on Strike with Free Spool.117+ pounds on full
4. Quad Drag. Twin floating titanium disks on both sides of spool with 4
carbon fiber brake pads.
5. 3-4 times larger drag surface compare to other leading compatible size reels with INCREDIBLY SMOOTH DRAGS
6. Live bait setting on drag lever
7. 100% precision machined aluminum rigid frame.Solid Billet 6061-T Aircraft
Grade aluminum, not fabricated from extruded pipes like some others
8. 9 stainless steel SEALED ball bearings, 316 & 304 stainless steel internals
9. Ergonomic oversized Handgrip.
10. Harness lugs.
Proudly designed, machined and assembled in USA.
Available in Gold, Silver, Blue, or Black Type 2 hard Anodized finish
6 month interest free financing is available from Paypal if you want it OAC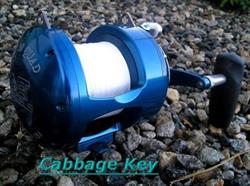 ---
Avet TRX 50W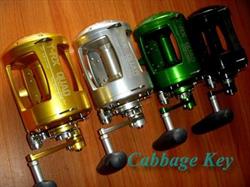 The T-RX 50W is in stock and ready to go, Silver, Gold, Blue, Red, Purple, Black or the Patriot Flag


Price: $849.00 WOW
Free US Shipping, low int'l rates

---
Avet TRX 30W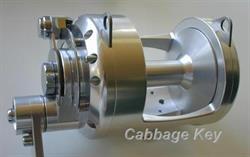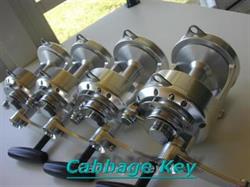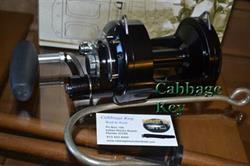 Above: Avet TRX 30W
A powerful fish stopper capable of up to 70 lbs of drag!
Cabbage Key, being one of Avets first dealers, is proud to have the opportunity to be involved in the first on the water field trial of their new quad drag TRX 30W
Avets new Pro 30W TRX first on the water trial confirms everything we thought the reel would be. A smaller , lighter version of their famed Pro 50W
This reel , with its extraordinary drag system, gives the angler an immensely strong , lightweight alternative to traditional heavy 80 and 130 pound class reels.
Quite capable of handling the monsters of the sea, here is the first "on the water" review from one of our customers. This is the first reel out of the factory on December 10. 2005.
Hello again Eddy... I just thought I'd fill you in, pertaining to my field test of the T-RX 30... I recieved the reel at about 9:15am on Saturday morning... Upon recieving the reel, I went straight to a local tackle store and spooled the reel up with 500 yards of 100lb solid spectra with 50 yards of an 80lb mono topshot (this rigging being the optimum one for the Thresher sharks that are currently in my region, on migratory routes)... I set out to the 14-mile bank on my boat at around 10:30am (FYI: the 14 mile bank is a high spot with good temperatures for all kinds of game sharks, where I have caught several threshers, makos, and blue sharks throughout the years)... I reached my usual slow trolling spot at about 11:00 am and began a slow troll with 2 chum buckets in the water... I trolled with an Avet 50 SDS and of course, my new T-RX 30... I let the T-RX's line out much further than my other rig, being that the T-RX was the reel I wanted to test out... After about a half hour, I hooked and winched in a very large blue shark on my T-RX 30----about 7.5 fet long and about 150 pounds... To the contrary, adult blue sharks (like this one) have given me a tough fight in the past (even on 50 wide reels)... This fight, however, was over within about 2 minutes... The drags were the smoothest I'd ever felt, and I winched the shark in with no delay or studdering in low gear... After releasing this one, I dropped my lines back in the water and slow trolled for about an hour longer until finally hooking a 225 pound thresher IN THE MOUTH (not the tail)... I knew I'd hit the jackpot when I saw the distinctive tail come up after the strike... It was truly a different feeling to have a huge fish like this on such a light weight reel, as I am accustomed to using 50 wides that weigh upwards of 80 oz... The reel didn't stutter at all though, and I winched this one in low gear... It only took me about 25 minutes!!!... this is about 10 minutes shorter than it had taken me to land 200+lb Threshers in the past---and that was on 50 wides!!! I had very little fatigue afterward, as this reel is so unbelievably light... To conclude this field test, all I can say is welcome to the future... Avet reels are producing the most technologically advanced fishing reels in the world, period... The 80 wide and 130 lb reel from any company might as well be obsolete...
Steve
SPECS:

Weight-- 60 ounces
Line Capacity-- 500/50 mono, 375/200 hollow braid, 500/130 hollow braid, 780/80 hollow braid , 780/100 solid spectra
Gear Ratio-- 3.8-1, 2:0-1
6 Abec 5 rated sealed stainless steel bearings
6061 T aircraft aluminum body and sideplates, all cnc machined
Internals are of the finest s/s 316 available
Carbon Fiber quad drag discs, twin titanium brake rotor
Rod clamp
Available in Light Gold only,
NOTE : The Gold option is a light Champagne Gold tone, sililar to Shimano Tiagra, beautiful, but will not match
other Avet Gold reels
Few reels on this planet will give you the advantages the Avet TRX 30W offers, at a price that is affordable. A must have for any serious angler.....

The
Avet TRX80W
is
located on a separate
page of its own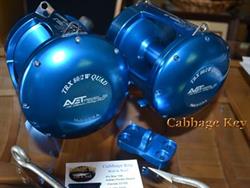 Above:
Avet TRX 80W
813 423 4500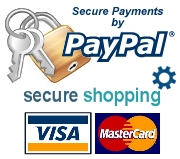 August 15th , Avet has decided to end production on the TRX 30W . Just didn't sell well enough,
Act Now, don't wait
The Light Gold have slight color variations, Still look great though, Purple and Green Camo available, VERY limited, subject to prior sale, Inquire by email or call 813 423 4500
Avet is discontinuing the TRX 30W , however there are VERY FEW left, act NOW
Below : Avet TRX 50 Topless Standard Width in Blue
Avet T-RX 130 $1399.00
See It Here
NOTE: The Green Camo does have a Black Spool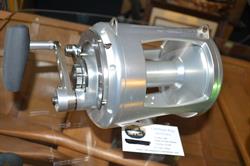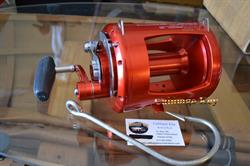 The Avet TRX30W's are in such short supply you must call or email us for availability. There are only a few left for sale 813 423 4500